Summer is all about vacation, waves, surfing, and even having a barbecue party with family and friends. It's what summer in Australia is like. We always look forward to a good vacation surrounded by fun, family and friends. Still, in this current situation, we need to be careful. Summer in Australia can be quite unforgiving, and there's the pandemic we need to be careful about. And that means we're going to wear masks during summer.
---
Summer in the Land Down Under
---
Australia's summer feels like working out with the amount of water you sweat out. However, you're sweating because of the heat and not due to exercise. Last year's summer was even recorded as the second hottest summer so far, reaching 1.88C above average temperature. For the record, the hottest summer so far reached a whopping 2.14C above average two years ago.
Whether summer this year is more relaxed or warmer than last year's, there's no argument that wearing a mask during summer is not a comfortable experience. But you don't need to worry.
There are ways to work around this and make your experience cooler this summer. Here are seven tips that will make your experience wearing face masks in summer comfortable.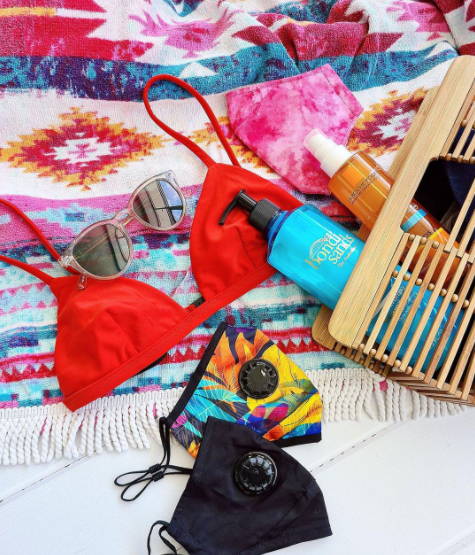 1. Get a Mask Made with Breathable Material
Masks made with a tightly woven material is the ideal one to wear daily. We advise looking for masks made with cotton material, preferably with three layers. Cotton masks have the best breathability and are also lightweight compared to other face masks.
You don't need to worry about having a hard time breathing. Its fibers are also tightly woven, preventing virus particles spreading outside the mask.
2. Look for a Mask that Comfortably Fits
Aside from looking for the right material, you also need to make sure the mask fits you well. Your face mask shouldn't be too loose or too tight. Remember, that a face mask won't perform its intended purpose if it doesn't fit you properly. If the face mask is too tight, it will be harder to breathe. On the other hand, wearing a face mask that is too loose will only make it slide down and not protect you from anything at all.
Some great alternatives are to look for masks with an adjustable ear loop or those with adjustable nose bridges. These face masks allow you to change how it fits your face, and it also secures the face mask in place.
3. Try Lighter-coloured Masks
It is said that darker colours like Black tend to absorb more heat, while lighter colours tend to reflect the heat. The explanation behind this is that darker colours absorb more light energy than lighter colours.
Bold colours may not be part of your wardrobe, but wearing bright-coloured face masks do make an impact. Grab this chance to try out fashionable masks with bright colours, like pink and yellow, or masks with floral prints to make your summer outfit trendy, pleasing and eye-catching. It's like both fashion and function met; fashion since bright and floral patterns look trendy and function since it reflects more heat than dark colours.
4. Bring More Than One Mask With You
Sweat and moisture is the ultimate enemy of masks. Some masks absorb sweat and moisture, making it prone to bacteria growth. In case you already have a lot of face masks, bringing more than one when you go out is a budget-friendly solution. But, make sure those masks are reusable.
Just change masks when the one you're wearing is dampened. When changing masks, do it in an area without a crowd and don't forget to wash your hands before and after changing face masks.
5. Take a Break From Time to Time
Wearing a mask over your nose and mouth can become uncomfortable if worn for an extended period. It can also be difficult if you have medical conditions, such as asthma or chronic obstructive pulmonary disease (COPD).
Whenever you're out, make sure to take a break from the heat from time to time. Remove your mask when there are no people around and breath. Also, avoid direct contact with the sun for long periods and always stay hydrated to make up for the excess sweating.
6. Take Care of Your Skin
Skin irritation is expected during the summer because of excessive sweating and sunscreen. Always bring a mild, hypoallergenic moisturiser with you to at all times and to wear breathable masks.
If you work out or just want to have a dry mask experience whenever walking outside during the summer, you can try neoprene masks. Masks made with neoprene fabric are breathable and have moisture-wicking properties, making it perfect for wearing when exercising, sports, cycling or day to day activities. It can also protect you from the harmful UV rays with its UPF 50+ protection. Read more on masks and their level of protection from the sun with our article "Do Face Masks Protect Your Skin from The Sun?".
7. Don't Forget to Wash Your Face Masks
Some germs grow in hot and damp areas, and masks are no exception. The Centers for Disease Control and Prevention explains that masks should be washed regularly and correctly. Use hot soapy water while gently handwashing masks and be careful around the valves or trims. Once done, Allow to fully air dry prior to use. Do not machine wash, tumble dry or use harsh soaps.
Have a Great Summer While Wearing a Mask
No matter the season, wearing reusable masks saves you money and helps the environment too. Clear Collective's reusable masks are all washable, breathable, environment friendly, and made to be worn every day without worry. We made sure all our face masks are made with love and quality so that it won't deteriorate after one or two washes.
Experience summer comfortably while wearing a mask. Check out our reusable face masks and get a bunch for the whole family. We offer masks that have a valve and without one. As for the filters, you can buy replacement face mask filters in our online store.